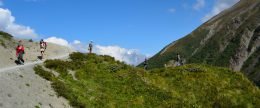 This tour package called Nepal's nature ,culture and adventure tour .Kathmandu Pokhara Chitwan Tour package is another important tour trip which combines two major cities and one wildlife area of Nepal. In this tour package you will get chance to visit three important city of Kathmandu Valley: Kathmandu, Lalitpur and Bhaktapur. Main places and temples of Kathmandu city such as Basantapur Durbar Square, Pashupatinath Temple premises, Boudhanath Stupa, Swayambhunath Temple premises and kirtipur and chobar are included. Similarly in Lalitpur important places and temples such as Patan Durbar Square, Krishna Mandir and Kumleswor Mahadeva temple are included. In the same way in Bhaktapur historically important places and temples such as Bhaktapur Durbar square, Natapola Temple and Chagunarayan Temple are included.
Another most attractive destination of this tour package is naturally beautiful city Pokhara. Pokhara is decorated with mountains and Lakes. Pokhara tour includes naturally attractive places and some temples such as Fewa Lake, Begnas Lake, Rupa Lake, world pagoda, Mahendra cave, David's fall, Varahi Temple and Bindabasini Temple.
This same tour package gives you thrilling experience of encounter with wild animals in Chitwan national park. Chitwan national park tour includes elephant ride, canoeing in the Rapti and Narayani River, short jungle walk on foot, park tour through jeep and visit of Elephant breeding and Gharial breeding camp. Chitwan national park' flora and fauna construct the memorable experience.
Detail Itinerary
Day 01: Arrival in Kathmandu (1310m)
On this particular day you will land on Tribhuvan International Airport, Kathmandu where you will be warmly received by the representative staffs from Fujiyama Treks and Expedition. From TIA, you will be transferred into the hotel in a comfortable vehicle. These tiny things show how much we care for you. Arriving in the hotel we will be discussed on the detail itinerary. Stay overnight in hotel.
Day 02: Kathmandu sightseeing day
On this day you will set out to sightseeing Kathamndu where we will make sure that you will get to outlook Nepal's nature, culture experiencing adventure. you will get to know the artistic and distinct culture of Nepal along with its ethnic group. After that you can drive towards the World Heritage Sites that are present in Kathmandu and most of them are listed by UNESCO. In the evening you will retun to hotel completing the sightseeing. Stay overnight in hotel.
Day 03: Drive to Chitwan From Kathmandu (160km/ 5-6hrs)
Completing the sightseeing in Kathmandu today you will drive to Chitwan after taking breakfast. Even on this day the nature will mak eyou outlook wilderness, native culture with encountering adventure. Upon your arrival you will be greet by the native and they will perform their cultural dances in front of you. Stay overnight in hotel.
Day 04: Full day inside the Chitwan National Park to get enjoy
This is the day you will spend inside the Chitwan National Park where you can observe different types of birds and animals. As a part of adventure you will carry out Jungle walk, jungle safari, jeep safari, canoeing and Elephant ride and many more. the entire day will give you happiness. Stay overnight in hotel.
Day 05: Drive to Pokhara and leave chitwan ,3/4 Hrs
From Chitwan you will drive to Pokhara, our next destination. Throughout the drive you will get to see the activities of people, the dense forest and beautiful mountains. Arriving at Pokhara you will move out to explore the market. Stay overnight in hotel.
Day 06: Pokhara Exploration and Boating on Phewa lake.
This is the day you will get to observe the beautiful nature where you can see the ranges of mountains, hills and serene lakes. To exerience the adventure you can go for Paraglading, boating and visit the caves. the attractive sceneries and delicious food will make the tour more charming. Stay overnight in hotel.
Day 07: Drive to Kande(1770m) and Trek to Australian camp(1910m)
On the following day you will go to trek Australian Camp following the attractive footsteps of prosperous Annapurna. Covering the altotude of 2,000 meter will make you sight all the delightful mountains al through the year. Completing the easy trek you will spend the night. Stay overnight in lodge.
Day 08: Drive Back to Pokhara and fly back to Kathmandu in evening flight.
On the following day you will leave for Kathmandu, completing the beautiful trip. For that either you can chose airways or roadways seeing your convenience. Arriving in Kathmandu you will be transferred to hotel. Stay overnight in hotel.