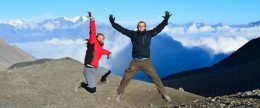 Annapurna Foothill:
Nepal is a unique country. It has 8 of the tallest mountains in the World. It is also famous for its unmatched beauty and cultural heritage. Annapurna (which was first successfully climbed by Maurice Herzog from France in 1950. ) has become a matter of trekking for all who enjoy hiking . Trekkers keep their cameras ready to capture the virgin beauty of the mountain peaks while visiting and climbing this region . They not only get a new experience but also get familiar with countless varieties of Himalayan flora and fauna.
Trekking in Annapurna is one of the popular destinations for the trekkers. It is started from Pokhara and as Fujiyama Treks & Expedition is a Pokhara based trekking company, we can easily handle your trip.
There are a number of ways for approaching this region. The first and easy route is from Pokhara. It can be managed by a drive of about 6-7 hours by Tourist bus or direct flight from Kathmandu (25 minutes) . Then you will meet the enchanting Pokhara .
Normally you can spend one night in Pokhara, in the lap of the Annapurna Mountain range . About 1 hour drive will take you to the starting point of the trek, Nayapul. The glacier fed aqua blue water of Modi River along with its tributaries influence the natural color through-out the whole way up to Annapurna Sanctuary.
Main attractions of this area are historical villages of the Magar & Gurung people (who are also popularly known as the Gorkhas). Poon- Hill, the best place for viewing the sunrise, is a part of this trek. Beautiful tropical and alpine forests along with dense rhododendron forests, the Annapurna glacier and 360 degrees mountain views make your trek worthwhile.
Trekkers can choose to stay at simple and welcoming guest houses run by local people in local style. Treks range from 7 to 10 days according to your preference.
Itinerary:
Day 1: Pick up then transfer to Hotel in Pokhara , (850m.) & trek preparation.
Trek
Day 2: Drive to Nayapul by car/van/bus then start trek to Ulleri(1960m.) 5/6 hours gradual & steep up.
Day 3: Trek to Ghorepani (2875m.) steeps ,gradual ups through Rhododendron forest -4/5 hours.
Day 4 : Trek to Poon Hill for sunrise view then back to Hotel then trek to Tadapani (2650m.) ups and downs 6-7 hours.
Day 5: Trek to Chhomrong (2170m.) Steep downhill & up 5/6 hours.
Day 6: Trek to Bamboo (2335m.) steep downs & up
Day 7: Trek to Deurali (3210m.) gradual up 4/5 hours.
Day 8: Trek to Annapurna Base Camp (4130m.) 5/6 hours.
Day 9: Trek to Dovan (2500m.) steep & gradual down 5/6 hours.
Day 10: Trek to Jhinu – Hot spring (1780m.) Ups & downs hills. 5/6 hours.
Day 11: Trek to Pothana(1900m.) down & ups hill 5/6 hours.
Day 12: Trek to Phedi / Milan chowk then drive to pokhara 3/5 hours steep & gradual downhill.
Travel
Day 13: Rest day in Pokhara
Day 14: Drive/fly out or other activities.