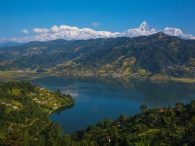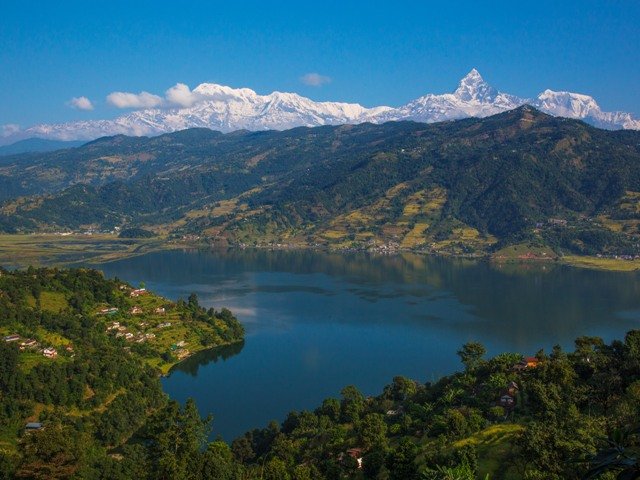 Kathmandu, Chitwan and Pokhara are top three tourism destination in Nepal. For all kind of visitors Nepal Vacation offers the best designed itinerary and package. This tour is scheduled as a triangular shape and the client has his right to choose the route the either side. The category of the hotels and the means of transportation are under the requirement of the visitors. Below are the short descriptions of the major attractions of Kathmandu-Chitwan-Pokhara tour.
Kathmandu:
Kathmanu is the capital city of Nepal. It is known as the city of temples and monasteries. Kathmandu valley the political, commercial, cultural hub of Nepal is framed for its natural beauty and historic and holistic places. Kathmandu valley contains three fabled cities, Kathmandu, Patan and Bhaktapur. Kathmandu city has an artistic exposition of graceful temples, elegant palaces, brick paved courtyards and giant streets. It is surrounded by green mountain walls above which tower mighty snowcapped peaks. Kathmandu city has the pilgrimage places for both Hindus and Buddhists.
Kathmandu valley tour offer Kathmandu Tour, Holiday tour in all around Kathmandu city with a local expert tour guide as per your interest language.
Chitwan:
Chitwan is best known for its culture and wildlife activities. Chitwan means "heart of the jungle", because of its dense forests and wild animals. Chitwan national park is located in central south of Nepal, just 165 km far from Kathmandu and 150 km from Pokhara, which offers you many jungle as well as cultural activities. Such as Elephant back safari, canoeing trip, jungle walk, visit to ethnic local people house, culture dance perform by local tribe people, visit to sunset point, jeep drive and so on.
The people who have at least 2 nights and 3 days time to visit Chitwan national park, we can offer them quiet relax and luxuries program, which will allow them to know about Chitwan national park, jungle activities and local people, their daily life. In 2 nights and 3 days package you can experience most of the adventurous program in Chitwan, such as elephant back safari, canoe trip, jungle walk, elephant breeding center visit, visit to local village, visit to sunset point and culture dance program
Pokhara
Pokhara valley covers approximately 123 square km. The elevation of this city is about 827 m from the sea level. Geographically, Pokhara is located in the central part of Nepal. Unique panoramic views of snowcapped mountains, lakes, gorges, caves, terraces, waterfalls, diverse cultures, monasteries, temples and other several natural and cultural attractions has made this place one of the most attractive tourist destinations in the world. Moreover, Pokhara has been emerged as Nepal's prime centre or capital of tourism. Natural attractions, cultural heritage, activities of sport tourism, favorable climate and hospitality are main strengths of tourism in this city. Pokhara is not only attractive tourist destination but also the gateway to the world famous Annapurna Trekking.
Outline Itinerary
Day 01: Arrival and Transfer to Hotel in Kathmandu (1350m)
Day 02: Fly from Kathmandu to Chitwan
Day 03-04: Two Days Jungle Safari Activities and Exploration
Day 05: Drive from Chitwan to Pokhara
Day 06: Sunrise in Sarangkot and Pokhara Valley Sightseeing
Day 07: Pokhara to Kathmandu Flight
Day 08: Flight of Mt. Everest and Kathmandu Valley Sightseeing
Day 09: Final departure to your port of destination
The Package Schedule:
Day 01:
Arrival and Transfer to Hotel in Kathmandu (1350m)
The representative of Nepal Vacation assists to give you reception at Tribhuvan International Airport upon your arrival and transfer you to check-in at the pre-booked Hotel in Kathmandu for BB Plan overnight accommodation.
Day 02:
Fly from Kathmandu to Chitwan
Fly or drive from Kathmandu to Chitwan National Park, which takes about five hours drive and 20 minute by flight. After lunch, you can enjoy an elephant back safari or nature walk through the tall elephant grass that is the home of the rare and endangered One Horned Rhinoceros. In the evening, enjoy cultural programs conducted by Tharu, community of Terai. You stay overnight at camp or lodge.
Day 03-04:
Two Days Jungle Safari Activities and Exploration
In Chitwan at National Park, you enjoy a full day of Wild-Life Safari activities such as: Elephant back safari, Nature walks, Canoe trip or boat ride, Jeep drive in the Deep forest, Elephant bathing, bird watching, Tharu Village tour etc. as per time permits. Trained local naturalists and guides will guide all to you. Animals and birds to be seen are rhinoceros, crocodiles, bear, monkeys, several species of deer, pythons, peacocks, hornbills, woodpeckers (amongst more than 400 species of birds recorded in the park).
Day 05:
Drive from Chitwan to Pokhara
After breakfast drive to Pokhara (4-5 Hrs.) by Tourist vehicles, drop to hotel (Tulsi Pokhara/ Pokhara Village Resort/ Hotel Peninsula or similar) in B/B Basis, free days and boating in Fewa Lake.
Day 06:
Sunrise in Sarangkot and Pokhara Valley Sightseeing
Early in the morning at around 5 am Drive to Sarangkot (1680m) for Sunrise view with golden mountain then full day sightseeing in around Pokhara city (e.g.: Bindubashini Temple, Seti river, Old Market, David's Fall Tibetan Monastery ,Begnash and Rupalake) and overnight in Hotel.
Day 07:
Pokhara to Kathmandu Flight
After breakfast Fewa Lake boating a couple of hours, visit Barahi Temple situated amid Fewa Lake and after Lunch Drop to Pokhara Airport for fly to Kathmandu transfer from KTM airport to same Hotel in Thamel for overnight in B/B Basis.
Day 08:
Flight of Mt. Everest and Kathmandu Valley Sightseeing
Early in the morning you will be proceeded One Hour Mountain-flight toward the top of the World (Mt. Everest) which is one of the unique one in the World. From where you can view 13 Snowy capped Mountains over 8000meters high and hundreds of peaks over 6000 meters high. After breakfast, you will be taken to visit Kapan Monastery, Boudhanath, Pashupatinath, and Swoyambhunath. At Evening, Farewell dinner will be provided with cultural program in Kathmandu.
Day 09:
Final departure to your port of destination
The trip ends, the Nepal Vacation Representative will drop you to the Kathmandu International airport for your final departure from Nepal to your port of destination.
Package Cost: Please contact our corporate office for negotiation of Package Costs.
Notes:
The itinerary is changeable and modifiable as per needs and time frame of travelers.
Cost will be re calculated if the itinerary is changed or modified.
Additional activities may be added as per traveler's request with appropriate additional cost.
The cost may also be affected due to the requirement of number of guides and porters.
For any kind of change please contact us by mail or call.