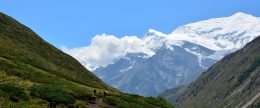 Joys of Nepal:

10 Night 11 days Kathmandu / Pokhara / Trekking in Annapurna:
Warm greeting from Himalayan Kingdom of Nepal. With my team from Nepal Vacation (P.) Ltd, take great pleasure in introducing the exotic Himalayan destination to you. Our mission is to offer delightful touring and trekking experience to our inbound and outbound travelers. Nepal … The Shangri-La, the land of Brave Gorkhas, the country of Mt. Everest, the land of anthropological treasures, the country of non-stop festivals, the melting pot of Hinduism and Buddhism, the country of hidden valley & crystal mountains, the land of Yak & Yeti, land of Buddha… these are the features that Nepal is known for in the world.
You will get very few places in all over the world like Nepal, which is richest country in the world in terms of bio-diversity due to its unique geographical position and latitudinal variation. Nepal is the birth places Buddha "The light of Asia" as well as country of Mt. Everest, the top of the world. Nepal is the country with eight highest peaks in the world over 8000 meters fourteen mountain, the world's greatest trekking paradise, the paradise for the bird watcher & very few countries of the world where you can see one horned Rhinoceros. The country is a potpourri of ethnic groups and sub-groups who speak over 92 languages and dialects. Nepal occupying only 0.1% area of the earth is home to: 2% of all flowering plants in the world, 8% of the world's population of birds, 4% of mammals on the earth, 600 indigenous plants families, 319 species of butterflies. The total area of Nepal is 147,181 sq. Km., where 30 million people lives situated between India and China.
Tour Itinerary:
Day 1: Arrival Kathmandu
Arrival at Kathmandu international Airport and transfer to your Hotel. Over Night at Hotel.
Day 2:- Kathmandu – Pokhara
After breakfast transfer to Bus Station and transfer to Pokhara by deluxe A/C bus about 6 hrs. On the way you will have lunch. Arrival at Pokhara and transfer to your Hotel and Overnight stay.
Day 3 : Pokhara to Ulleri (2073m.)
After breakfast at Hotel, drive from Pokhara to Nayapool for 42 km then trek start from Nayapool (1050m.0 to Birethanti for 25 min trek then you will cross Modi River. From here take left side, follow all the way to Burundi Khola to Ramghai/Hille for 2 Hrs where you will have lunch and after lunch from Ramghai about 1and half hrs and from hille about 30 min to Tirkhedhunga ( 1577m.) a small gurung village and from here cross the hanging bridge and trek one and half hrs trek up to Ulleri (2073m.). Ulleri is a small gurung village from where you will see the mounatin of Annapurna South (7219m.) and Himchhuli (6441m.).
Total walking Duration: 5-6 hrs. Distance: 13.Km
Day 4 : Ulleri to Ghorepani (2874m.)
From Ulleri village after breakfast trek start to Banthanti for 45min( Village before start to forest-2350m.)and from Banthanti another one and half hrs gentle trek for NAngethanti (2550m.-Lunch place). Here you will walk inside of Oak and rhododendron forest. After lunch another one hours and 20 min for Ghorepani (2874m.) A beautiful Magar village from where you will see the range of Dhaulagiri and Annapurna ranges.
Total walking Duration: 4 hrs. Distance: 8 Km
Day 5: Ghorepani to Tadapani (2660m)
Early in the mroning before breakfast we have to start our sunrise trip from Poonhill (3210m. and 45min walk). Poonhill is a popular view point in Annapurna Ranges from where we can see the Maountain as: Dhaulagiri I-8167m., Tukuche Peak-6920m., Dhampus Peak-6012m., Nilgiri-7061m., Annapurna I-8091m., Annapurna South-7219m., Himchhuli-6441m., Fishtail-6997m., Annapurna II-7937m., Lumjung Himal-6920m., Manaslu-8163m., and many more.. After sunrise trip we will back to Ghorepani, Take breakfast and after breakfast we start our trek to Deurali for one and half hours up and gentle walk from the ridge. After deurali another one and half-hour gentle downhill to Banthanti for Lunch. After lunch one and half hours very nice gentle up and down to Tadapani Village (2660m.). Tadapani is a small gurung village totally surrounding by rhododendron forest from where you will get mountain view of: Annapurna South-7219m., Himchhuli-6441m., Fishtail-6997m., Mardi Himal etc in closed distance.
Total walking Duration: 5 hrs. Distance: 12 Km
Day 6: Tadapani to Ghandruk (1952 m)
This day is easier but beautiful days. Trek start after breakfast from Tadapani to BhiseKharka for 45min gentle walk in forest then another 2 hrs gentle down and flat for Ghandruk (1952m.) .This day you will have your lunch at Ghandruk. Ghandruk is a beautiful Gurung village from where you will get the Mountain view of ; Annapurna South-7219m., Himchhuli-6441m., Fishtail-6997m., Mardi himal etc. After lunch you will go for village tour in Ghandruk specially old town of Ghandruk and Ghandruk Gurung Museum for 1-2 hrs then back to hotel for rest.
Total walking Duration: 3 hrs. Distance: 6.5Km
Day 7 : Ghandruk to Pokhara (915m)
This day you will start your trek after breakfast from Ghandruk to 2 and half hours for SauliBazar down and flat walk and from Saulibazar another one and half hours max easy and flat walk from corner of Modi Khola for Birethanti for lunch. After lunch trek 25min for Nayapool and drive back to Pokhara.
Total walking Duration: 5 hrs. Distance: 10.5Km
Day 8: Free day at Pokhara.
After breakfast Pokhara Sightseeing including Devi's Fall, Gupteshowar Cave, Tibetan Village, binda Bashani Temple, Seti River George. Afternoon you will have optional activities like Paragliding from Sarangkot / Ultra light flight / Boating on Fewa Lake etc.
Day 9: Pokhara – Kathmandu.
After breakfast transfer to tourist Bus station and drive to Kathmandu by A/C deluxe bus. Lunch will be on the way and transfer to Kathmandu Hotel.
Day 10: Kathmandu Sightseeing.
Sightseeing in Kathmandu including Pashupatinath Temple, Bhaudanath Temple and rest day will be free.
Day 11: Fly back to your next Destination / home.
Cost: US$ 1000 per person for 10 Night 11 Days
Minimum Pax: 2
Cost includes:
• Private transfer to / from Airport / Bus park.
• Accommodation in standard Hotel on twin sharing basis at Kathmandu and Pokhara with Breakfast.
• A/C deluxe bus transfer Kathmandu – Pokhara and return.
• 4 Night 5 days trekking package with AP (Breakfast, Lunch, Dinner) plan, Accommodations in trekking guest house.
• Private transportation from Pokhara to trekking starting point and from ending point to Pokhara.
• English speaking trekking guide and Porter during your treks.
• Kathmandu Sightseeing with Vehicle and Guide.
• ACAP Permit and TIMS for the trekking.
Cost doesn't include:
• Lunch and dinner at Kathmandu and Pokhara.
• Bar bill and drinks during trekking period.
• Optional activities
• Entrance fee during sightseeing period in Kathmandu and Pokhara.
• Staff Tips