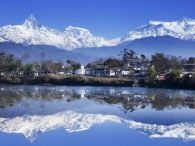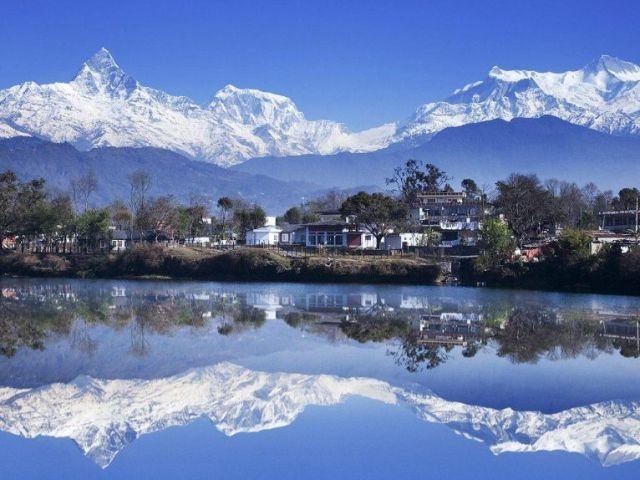 Pokhara
Pokhara valley covers approximately 123 square km. The elevation of this city is about 827 m from the sea level. Geographically, Pokhara is located in the central part of Nepal. Unique panoramic views of snowcapped mountains, lakes, gorges, caves, terraces, waterfalls, diverse cultures, monasteries, temples and other several natural and cultural attractions has made this place one of the most attractive tourist destinations in the world. Moreover, Pokhara has been emerged as Nepal's prime centre or capital of tourism. Natural attractions, cultural heritage, activities of sport tourism, favorable climate and hospitality are main strengths of tourism in this city. Pokhara is not only attractive tourist destination but also the gateway to the world famous Annapurna Trekking.
How to get Pokhara?
Pokhara is well connected by air and road services from Kathmandu and other famous cities of Nepal. This city is centrally situated and linked with roads just 200 km west of Kathmandu, about 180 km north from Sunauli (Indian boarder), and about 295 km north east from Rasuwagadhi (Chinese border) . It takes 25 minutes to fly and 6 hours to drive from Kathmandu. Pokhara is well linked by roads with the several boarder cities of India. Luxurious tourist coaches and vehicles are regularly available from these cities to Pokhara.
Major Attractions
Lakes
Pokhara is also known as Lake city as there are 8 lakes in this valley. Lekhnath Municipality is the area popularly known as garden city of seven lakes. Fewa Lake, the second largest lake of Nepal, is the travellers focal points in Pokhara. The reflection of Mt Fishtail and Annapurna Range on the surface water of the Fewa Lake creates unparallel beauty. Likewise Begnas, Rupa, Maidi, Khaste and other several lakes have decorated this city as a true paradise on earth.
Caves:
There are several interesting caves in Pokhara. Mahendra cave, Gupteshor cave, Bats cave and Crystal cave which create additional mystery of this valley.
Seti Gorge:
It carves a deep narrow chasm through the middle of town, turning the water milky white in the process. Roaring Seti river approximately 40 meters depth is mysterious wonder of Pokhara which is generated from the glacier of Machhapuchhre.
Davi's Fall:
It is famous and most fascinating water fall measuring 48 meters deep and 1479 meters long in the valley.
Tibetan Villages: Tashi Palkhel Tibetan settlement Hemja and Tashi Ling Tibetan settlement Chhorepatan are famous for Tibetan cultures, monastery, handicrafts, and curio shops.
Museums:
International Mountain Museum, Gorkha Memorable Museum, Annapurna Butterfly Museum and Regional Museum have embedded historical and cultural importance of this region.
Temples and Monuments:
World Peace Pagoda, Barahi Temple, Bindabasini Temple and Buddhist Monastery at Matepani are the attractions religious tourism.
Sarangkot:
No tourists would like to miss Sarankot for Sunrise and Sunset views which is 1598 high, just 20 minutes drive from Lake Side.
Events and Festivals: The city seems nicely decorated with paints and lights during Daishain and Tihar. Pokhara is the only city in Nepal that attracts more than half million visitors during the New Years ( both Nepali & English) Street Festivals.
Major tourist activities
Trekking
Mountaineering
Paragliding
Hiking
Sight Seeing
Paragliding
Pony Trek
Ultra Light Flight
Benzie jumping
Zip Liner
Mountain flight
Sky Diving
Rafting/Kayaking
Golfing
Mountain Biking
Honey hunting
Bird Watching
Boating
Fishing
Cannoning
Amenities
The range of accommodation from 5 star hotels to tourists standard Guest Houses provide approximately 17000 beds in Pokhara. More than 300 different types of restaurants offer typical Nepali as well as international tastes. Hundreds of travel and trekking agencies, several paragliding and adventure operators, banks and money changers, postal office, immigration office, spa, casino and shopping facilities are making easier and comfortable for holiday makers.
Surrounding Destinations
Bandipur, Tansen, Chitwan, Lumbini, Mustang, Manang, Gorkha