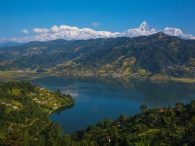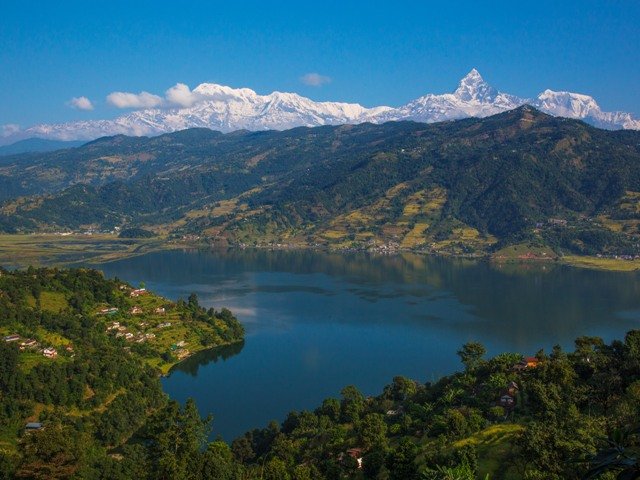 Nepal
.
Nepal, a country of Mount Everest and birth place of Lord Buddha is sandwiches in between two giant countries China and India. It is located from 60 meters to 8848 meters high from the sea level. Tourism is one of the main industries of Nepal. Because of the natural and cultural attraction, always favorable weather and Nepalese hospitality, the number of visitors are increasing every year. The world famous Himalayan range, hills, lakes, terraces, land escapes, rivers, caves are some of the spectacular sceneries of this country. Similarly age old cultures of more than 116 ethnical groups are other attractions for tourist. The weather of Nepal is always favorable for tourist. It is neither too hot nor too cold. In our tradition and religions, we believe that guest is our god. So, Nepalese hospitality for the guest is unforgettable.
Geography:
This country is approximately covers 147181 Sq.km. I t is 885 km east to west and 145 to 241 km north to south. The country is divided into three geographical regions.
Himalayan Region: The altitude of this region is above 5,000m. The region encompasses eight of the 14 highest summits of the world crossing over an altitude of 8,000m including Everest, Annapurna, Dhaulagiri etc.
Hilly Region: The region lies between the Himalayan and Terai region soaring up to 4,877m.
Terai Region: It extends from the Nepal-India border in the south to the base of Siwalik Hills (Churia) in the north. Its elevation ranges from 70 to 200m with subtropical climate.
People:
Nepal has a composite population stemming from various racial and ethnic communities. It has been a melting pot of diverse linguistic and ethnic groups with population 25 million living in different regions, wearing different costumes and speaking different languages and dialects the people belong to multi-ethnic groups, ranging from the Indo-Aryan to Mongoloid. The Himalayan and central hilly regions are mostly inhabited by the people of the Tibeto-Burman stock while the people inhabiting the Terai lowlands may be grouped under the Indo-Aryan category.
Religion:
Hinduism and Buddhism constitute two major religions in Nepal. a remarkable feature of Nepal is the religious homogeneity what exists, particularly between the Hindu and Buddhist communities. Apart from the Hindus and Buddhists, Muslim forms the third largest religious group.
History:
Nepal has a long glorious history. Its civilization can be traced back to thousand of years before the birth of Christ. For centuries, the kingdom of Nepal was divided into many principalities (Chaubise States). Kirantas ruled in the east, the Newars in the Kathmandu Valley, while Gurungs and Magars had their domain the mid-west. The Kirantas were said to have ruled their territories from 300 B.C. The country took its present shape only after 1768 A.D. when Prithvi Narayan Shah, king of Gorkha, conquered and united all the tiny states into one kingdom.
Art and Culture:
There is perhaps no country in the world except Nepal where traditional architecture, painting and sculpture have been well preserved for 1500 years. The exquisite medieval art and architecture of the Kathmandu valley vividly reflects the artistic ingenuity and the religious tradition of the people. To better understand the deep and complex roots of Nepalese culture, it is necessary to visit the monuments and religious shrines.
Climate:
Nepal's climate varies with its topography. It ranges from tropical to alpine depending upon the altitude. The Terai region which lies in the tropical southern part of the country, for instance, has a hot & humid climate. The mid-land regions are pleasant almost all year around although winter nights are cool. The northern mountain region, around an altitude above 3353 m has an alpine climate with a considerably lower temperature in winter as can be expected.
Nepal has four major seasons.
• Winter (December-February)
• Spring (March-May)
• Summer (June-August)
• Autumn (September-November) (page Number 2)
Travel information:
Getting to Nepal:
By Air: Kathmandu is served by direct flight to/from Europe, Middle East, USA and major Asian countries.
By Land: All visitors entering Nepal by land can enter through the following routes-Kakarbhitta, Birjung, Sunauli, Nepalgunj, Dhangadhi, Mahendranagar on the Nepal-India border and Kodari on the Nepal-China border.
Visa Regulation:
The single entry tourist visa can be obtained from the entry points of Nepal or from the Nepalese diplomatic missions abroad by paying US$ 30 for 60 days.
Multiple entry facility can be obtained paying additional US$ 50 and valid for a visa year (Jan-Dec)
Season:
The most popular seasons for traveling to Nepal, Tibet, Bhutan and India are spring (Feb-May) and autumn (Aug-Nov). During the monsoon season (June-Aug) tours and treks are also possible depending on where you are going.
What to wear:
During most of the year light woolens and cottons are sufficient for day wear, with warmer attire necessary in the evenings. Heavy woolen clothing is required during winter months.
Communication:
Private communication centers and hotels provide ISD, STD, Fax and E-mail services. The STD code for Nepal is 977. Inquiries can be made at 197.
Electricity:
Major towns in Nepal have electricity and the voltage available is 220 volts and 50 cycles. Load shedding is sometimes experienced in Nepal. However, most of the hotels have installed their own generators.
Time:
Nepal is 5 hours 45 minutes a head of GMT (Greenwich Mean Time) and approximately 12 hours and 50 minutes a head of Pacific Time.
Money and Credit Cards:
Payment can be made in foreign exchange in hotels, travel agencies and airlines. Credit cards such as American Express, Master and Visa are widely accepted at major hotels, travel agencies, shops and restaurants.
Travel Documents:
It is the traveler's own responsibility to obtain passport and travel visa. The passport should be valid for at least 6 months beyond the intended return date. The travelers is responsible for providing us the correct complete and accurate information about personal details including physical disabilities.
Tourist Guide:
Our Company provides all government-registered tour guides fluent in different foreign languages throughout the trips.
Accessibility:
Accessibility plays the vital role in tourism to promote its destination. One can enter to Nepal by both (air and land) means of transport. A well constructed international airport which has connected with many major cities of Asia, Europe and other countries. Several national and international airlines are flying from Kathmandu to the world. Likewise Nepal is linked by road with India and China too.
Our Some specialized package Tours:
Honeymoon Tour (5 Days 4 nights)
Cultural Tour (4 days 3 nights)
Adventure tour (10 days 9 nights)
Nepal Triangular (Kathmandu-Pokhara-Chitwan )
Strenuous Adventures (Peak Climbing)
Student Package
Pilgrimage Tour
Buddhist Circuit