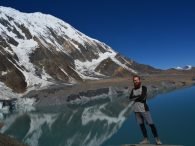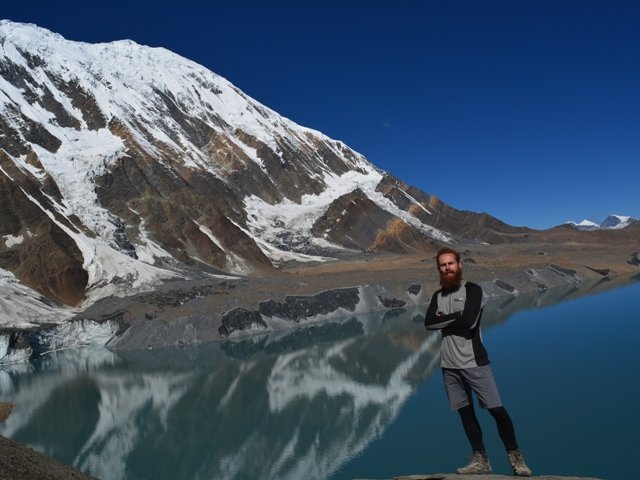 Tilicho Lake Trek:
The scenery is stunning, the mountains are magnificent and the hardworking decent people you will meet along the way will stay in your hearts and memories forever. This is a challenging adventure you will never forget and can relive with all your family and friends for many years to come.
About 4-5 hours drive from Pokhara and 6-7 hours from Kathmandu, you will be on the first step to meet with these beautiful, snow- capped peaks.
While doing this trek , you pass through sub-tropical forests , tropical forests, alpine forests and ultimately find yourself in a stunning, barren landscape which looks like Tibet. Enjoy not only the forests , but as you gain altitude , you get the opportunity to experience the contrasting changes in climate. Nature lovers will revel in the beauty of this trek, this country, this planet.
A new trekking trail is open as far as Manang so trekkers can choose either of two ways to start the Annapurna circuit … by walking the trekking trail or an adventure drive on the hilly road.
There has been road building recently which initially was very disturbing, but this has turned out to be of no concern now. Your Annapurna Circuit journey through these amazing mountains and cultures can still be enjoyed and explored. Local people nowadays have good access for food and health needs, important if living in these areas. And when an emergency occurs due to the high altitude or some misfortune, at that time trekkers will also get benefit from the road.
Main attractions of this area are of historical Brahmin-Chhettr then on through Gurung, Bhote & Thakali culture.
Along with Tilicho Lake at 4,949meters, the lake of highest elevation in the World, you will trek over Throng-La Pass at 5,416 meters, which has been claimed as the highest point on the Annapurna Circuit, to Muktinath and also to a 511 years old monastery situated in Jharkot on the way to Kagbeni .
The down journey should not be rushed. The beautiful apple orchards of Marpha and sometimes wandering along cool forest pathways all the way to Tato Pani's hot springs is delightfully wonderful.
Remember to turn around and look where you have come from !
Trekkers can choose to stay at any welcoming guest house along the way. All of which are simply run by local people. You can experience staying in the remotest areas of the World with some of the most rare people of the world.
Treks range from 15 days to one month according to your preference. It is advised to take rest for a few days on the way as going up directly might cause acclimatization problem.
Itinerary
Day to day Itinerary (19 days trekking)
Day 1: Arrival in Kathmandu airport(1350m.), Pick up then transfer to the Hotel
Day 2: Full day Sightseeing around Kathmandu Valley, 5-6 hrs
Trek start
Day 3: Kathmandu Besishahar (820 m. ) 5/ 6 hours by bus – same day walk to Bhulbhule (840 m.) 3 hours .
Day 4: Trek to Bahundanda (1310 m. ) 5 hours, gradual & steep up.
Day 5: Trek to Jagat (1300 m.) 5 hours, gradual ups & downs
Day 6: Trek to Tal village (1700 m.) 5 hours, gradual ups & downs.
Day 7: Trek to Danaqyu (2200 m.) 5 hours, gradual ups
Day 8: Trek to Chame (2710 m.) 5 hours, graduaul & steep ups.
Day 9: Trek to Pisang -5hrs (3250m.)- Gradual up & steep up
Day 10: Trek to Manang- 5hrs (3540m.)- Gradual up
Day 11: Trek to Manang -rest ( 3540m.)- Acclimatization & village walk
Day 12: Trek to Khangsar (3734m.)- steep ups & downs 5 hours.
Day 13: Trek to Tilicho Lake Base camp (4150 m.) 5/6 hours.
Day 14: Trek to Tilicho lake Sight seeing trip around Tilicho Lake and back to Tilicho Base camp 5-6 hours.
Day 15: Trek to Kharka (3800 m.) steep ups & downs. 5 hours.
Day 16: Trek to Yakkharka -5hrs (4050m.)- Gradual up.
Day 17: Trek to Throng-Phedi – 5hrs(4450m.)- Gradual up.
Day 18: Trek to Muktinath- 7-8hrs (3800m.) Steep up to Throng-La (5416m.) then Steep down
Day 19: Trek to Marpha 5-6hrs (2670m.) steep down & gradual down
Day 20: Drive to Tatopani 4/5 hrs (1190m.)- Gradual down
Day 21: Trek to Ghorepani 7-8hrs (2855m.)-Steep up & Gradual up
Day 22: Trek to Nayapul then drive (car/ van/bus) to Pokhara 7hrs (850m.) Early morning Poon Hill, ups & downs Trek end
Trek End
Day 19 : Rest in pokhara (850m.)Sightseeing & extra activities.
Day 20: Drive / flight to kathmandu , fare well dinner in Nepali restaurant.
Day 21: Flight back to home or extra activities