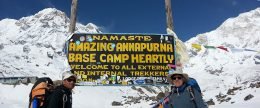 Nepal is also known as " A Trekkers' Paradise". Trekking is not mountaineering but just walking. You neither need any advance training nor have to be an athlete. Trekking is the best way to discover interesting and remote mountain villages of Nepal and to enjoy the panoramic views of the famous peaks together with the lifestyle there absolutely far away from the modern civilization. The immerse contrasts in altitude and climates found here support and equally spectacular mix of lifestyle, vegetation and wildlife. Trekking in Nepal is as much as cultural experience as a Himalayan adventure. In the shadows and foothills of the icy pinnacles of the Himalaya, one passes picturesque charming village inhabited by diverse ethnic groups. Trekking in Nepal vary from expeditions, high altitude trek to simple easy paced walks.
Organizing trekking in many different ways such as fully organized camping trek, tea house trek, trek by hiring guides and porters only and home stay trek are our main profession. Although trekking in Nepal for all season yet the best trekking season in Nepal is September to December and March to May, but even in the summer monsoon, trekking is popular in the rain shadow regions north of the Himalayas in areas such as Mustang, Upper Manang and Dolpo.
Nepal Vacation Pvt Ltd and Fujiyama Treks & Expedition are specializes in professional, yet personalized service and socially and environmentally friendly trekking and adventure travel. We respond quickly and promptly to inquiries to help you put together the adventure of a lifetime, no matter your budget. We are local trekking agency in Nepal so we have more ideas about Nepal.
We will work within your budget, cut costs to meet your needs, or suggest luxuries to make your adventure extra special. Our guides are instructed in the highest standards of service and eco-friendly trekking practices, educated in the flora, fauna, wildlife and culture of Nepal, and trained in safety and medical concerns, from altitude sickness and wilderness first aid to clean water practices.